STEP BY STEP GUIDE TO HIRE INTERNS
Get the best information to design and implement your own internship program and bring the most qualified interns to your team
Companies can benefit from excellent, talented and international interns who will add value to their teams, as long as they have well-structured intern programs. We did the hard work on your behalf by combining 10 years of our experience as an internship Placement Agency and presented you this complete step by step guide that will help you to:
Understand the importance of hiring interns and if you need them on your team;

Know when you need an intern and whether you are ready for it;

Design and develop internship programs appealing to International interns;

Understand and conduct a recruitment process;

Measure interns' performance;

Deal with contract and visa issues;

Avoid common mistakes that could ruin your program.
Get Access to Free Step By Step Guide to Hiring Interns
Do you need help to create an Internship Program?
Over the years our agency (CIP) carefully selected International Young Graduates and College Students for befitting internship placement for companies in China. We place highly motivated, critical thinking and hungry- for-experience interns who can lead corporate revolutions and are team players. CIP's China Internship Program participants are noted industry-wide for being the best.
Once you join our agency network (for free) you will have access to our excellent and qualify interns database of about 10,000 Applicants. Our process has the following 6 steps: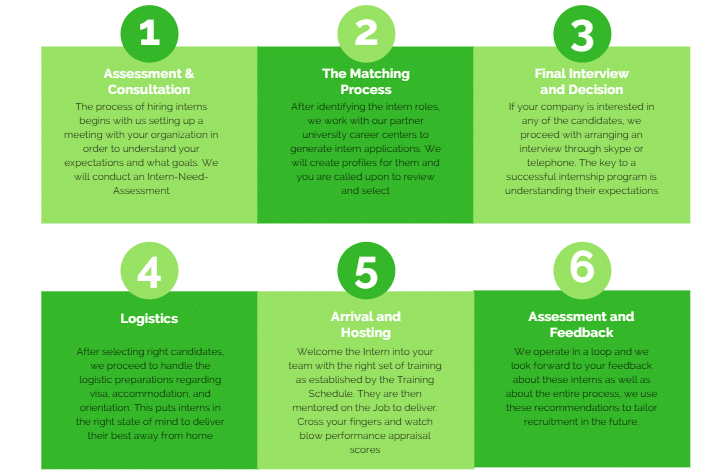 Our Partner's Experience
We deal with the hard work so you can focus on your bussiness
For the past 10 years, we have engaged best practices in bringing top talents to our partner organizations. We offer an in-depth assessment of your requirements and provide just that. Our free Intern recruitment services are available in major cities in China such Shanghai, Beijing, Shenzhen, Guangzhou, etc. Our interns are professional young graduates and college students from the United States, United Kingdom, other parts of Europe, Canada, Australia and the rest of the world.

Join our wide network and start to get access to talented, qualified and motivated interns from all over the world.