Doing an internship abroad is something that a lot of students dream of, although China is not necessarily the first country they'll be thinking of. Students want to see Europe, the elegance of France or the sun-soaked hills of Italy. Yet, internships in China, and internship in Shanghai to be specific have become increasingly popular, see reasons you should intern in China. Even though you might not suspect it, these internships are popular for good reasons. What these reasons are, is exactly what I'll be writing about. Do you want to learn the 15 secrets of Shanghai internships?
1. An internship abroad will impress future employers
This is not a secret per se, as it isn't specific to an internship in Shanghai, this goes for international internships in general. It is also important to mention though. Doing an internship abroad will show a future employer a couple of things that will make you a lot more attractive solicitant.
Firstly, you're adventurous and ambitious. These are characteristics that many employers like to see in their employees, as you will probably strive for their company as well. On top of this, you've seen different cultures and faced the challenges of being in a strange environment. Having knowledge of the world and the possibility to adapt to different situations are once again characteristics that will get you farther in any field of work
Shanghai has become a global city so considering an internship here will be life-changing for you. There are hundreds of opportunities in Shanghai in various industry sectors. It is the financial center of China and is a world leader in finance and international business.
2. A completely different culture
Going to London for your international internship can be amazingly fun and educative, don't get me wrong here, but the culture isn't very different from the US. Shanghai, on the other hand, will throw you into an entirely different culture. Shanghai is part of China as you probably know, and the Chinese culture is nothing like the American culture. You'll learn new customs, new dishes, new music, new ways of entertainment etc. Internship in China will surely broaden your horizon.
3. Shanghai is a modern city
It is very well possible that the thought of China is made up of busy streets crammed with poor people, toxic fumes, trash etc. Yet, this is not the case when it comes to Shanghai. In opposition to what many people believe, Shanghai is a modern and clean city. Isn't that great? You get the beautiful culture of China, while still being in a modern city. Shanghai Internship is surely an opportunity to meet oriental culture while exploring your career options. See our article about life in Shanghai
4. Your money is worth more
Another country that would offer the two points I mentioned above, is Japan, which is incredibly modern yet also has a culture that couldn't be more different from the US. There is one point where Shanghai wins over Japan though, which is the cost. Japan is awesome, but living there is not cheap. With an internship in Shanghai, you'll be able to get more for your money than you do in your hometown, which is always a plus when you want to have a fun time as well.
5. There are many internship opportunities in Shanghai
When you're looking for an internship, it's important that there are enough internships available, and this is definitely the case in Shanghai. While the economy of the west has been going up and down for many decades, China's economy has only started booming recently. This means that you'll be able to find internships in almost all industries you can think of. On top of this, you also have a bigger chance of finding a paid internship, which is always beneficial. Doing an internship that will enlarge your job chances later on in life is already great, but being paid for it as well make it a dream come true.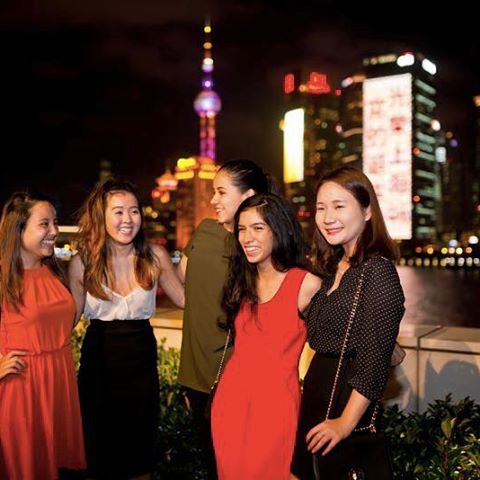 6. It will create a greater network
As a student, you've probably heard over and over how important it is to have a big network when you want to make your way into the career world. Thus, creating a network is something you want to start with as a student. And what better way to do this than during an internship in Shanghai. Plus, broadening your network in Shanghai also means that you're going to have an international network, creating even better chances for yourself.
Now networking in China isn't quite the same as it in the US. Therefore you should definitely check out this article so you can work on your Chinese networking skills.
7. You can challenge yourself    
One thing that may outweigh all of the other benefits that are offered by an internship in Shanghai is that you get to challenge yourself. As a student you are constantly broadening your horizon and overcoming challenges, but why wouldn't you want to take it up a notch? Going to Shanghai will surely help you do this
8. Shanghai is the financial center of China
If you want to do an internship that has anything to do with the world of finances, then Shanghai is where you want to be. Shanghai is the business center of China. This is where it all happens and where you'll find a lot of opportunities regarding finances
9. You'll be surrounded by driven and focused people
One thing that characterizes the financial world and its people is how driven and focused they are, all the time. This is something that you'll be certain to find in Shanghai, the center of China's financial world
10. You'll get to know the Chinese work environment
The Chinese work environment isn't the same as the American or the French work environment for example. Therefore it will be a new experience to take an internship in China and to get acquainted with their working ethics. You'll learn new things, and you'll adapt to new situations as well. Plus, you'll broaden your knowledge on different sorts of work environments, which will always be a benefit.
11. It houses 73 fortune 500 companies
Fortune 500 is a list that consists of the 500 most proliferate companies, and 73 of these companies are located in Shanghai. Having an internship at a fortune 500 companies will be sure to leave a mark on your resume and impress future employers. Having the chance of interning at a fortune 500 company, I would always advise you to take it.
12. You'll learn how to be very productive and fast-paced
Along with the financial character of the city comes a finance-inspired work ethic. This means that offices in Shanghai are generally very fast-paced and focused on productivity, something that you might not be used to. This will allow you to get used to it and learn how to be more work-efficient than ever, which can benefit you in every area of your life, including your studies.
13. Learn a new language
If you're planning on having a longer internship, then you may use the opportunity to pick up some language lessons while you're out there. Chinese is not a common second language, so learning it well will also add value to your resume. Even when you're not going to learn how to speak fluent Mandarin, it can at least be fun to give it a shot. If you are interested in Chinese lessons in Shanghai, then look over here.
14. China is where it will all be happening
I've already mentioned that China's economy is booming, but their growth isn't even close to coming to an end. Having some sort of connection to China will help you enormously in the future. Almost all global companies are trying to make their way into the Chinese market, so you're going to be an asset to any company when you tie to China.
15. Having a lot of fun

A good reason for doing your internship that shouldn't be overlooked is how much fun it will be. Exploring a new culture and having to find your way in a completely new environment is scary, but it can also be so much fun. How is it going to get any better? You're building your future, possibly getting school credit, all while having the time of your life. There are many more places to visit while in Shanghai.
The biggest fun for you will be joining a startup community as there are several startup ecosystems supported by government funds to help entrepreneurs develop their ideas. This kind of internship in Shanghai will boost your motivation and creative thinking. You will find yourself in an environment of highly motivated, talented people from different countries and mentality. This kind of diversity and internship opportunity will help you generate ideas, be in the process of creating something new and interesting.  Other entrepreneurs will be a leading example for you, you will learn a lot of new skills and will get the working ethics that they already have.
This kind of entrepreneurial motivation will make your internship abroad program an unforgettable experience after which, lots of companies will be interested in hiring you. This kind of motivation will even help you when you want to start your own business – you will be ready for all the challenges and will know what to expect, how to avoid failure. 
If these aren't enough reasons to travel and do an internship in Shanghai then I don't know how I need to convince you anymore. If I have managed to convince you then you can take a look at the following website to find an internship in Shanghai. The possibilities are endless, but especially in the financial world, you're going to have success. It will probably be the adventure of your lifetime, as it has been for the student that tells their story over here.
Now from here on it's up to you to start figuring out your internship, as you will need to put your best foot forward if you want to land the perfect internship in Shanghai. Even though there is a lot of room for interns, you will still need to put in some effort as you always do. When you do put in a lot of effort, you might even be able to land a paid internship, as if it couldn't get any better.